COMPUTER LAB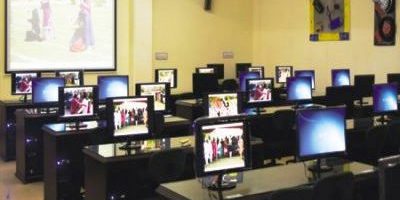 The college has an air-conditioned computer lab, equipped with 52 workstations with the latest core i7 machines and networking with the main server. The internet facility at Fazaia College of Education for Women is one of its prominent features. the computer lab is also equipped with a multimedia projector for teachers to deliver their lectures in the lab to the students. Students can prepare their assignments/ projects and present them in the classrooms. The College Computer lab has the capability to conduct any type of computer practical and online registration, email, software sharing and much more.
College  Computer Lab's Specifications:
Fazaia College of Education for Women is maintaining the standard of its computer lab up to the highest level to ensure the students get the latest hardware as well as software on hand. The current specifications of computer lab PCs and is as follows.
Description
 Status/ Values
Total Computers Workstations
52 (Latest Core i7)
PC's Specification
Processor
Core i7 (4th Generation)
Hard Disk Drive
01 Tera Byte
RAM
4 GB
LED/ Size
LED 22 Inch
Computer Lab Details
Lab Dimensions
40′ x 33.5′
Air Conditioned
Yes
Networking
Yes
Internet Access
Yes
Seating Capacity
50
Multimedia Projector
Yes